The year 1962
In response to your interest in our history we provide the second insert by the authors of the book "Stena Line – The History of a shipping company", Anders Bergenek and Rickard Sahlsten. It was the year 1962. Cuba was in crisis, Sweden had won the Ice hockey World Championships and the embryo of today's Stena Line had started forming.
This is the year when the Cold War is at its coldest and the Cuba crisis is threatening to push USA and the Soviet Union into a third world war. Fortunately the increasing militarization is broken up and the relationship between the super powers improves. In Los Angeles Marilyn Monroe commits suicide and there is a sense that the 'innocent 1950s' are heading to the grave. Sweden wins the Ice Hockey World Championships in Colorado Springs and the Swedish nation is listening to Lennart Hyland's classic radio comment about the definitive ice hockey puck "gliding into the goooaaal". Hasse Alfredsson's and Tage Danielsson's fictional humour character 'Valfrid Lindeman' sees the light of day in the revue 'Green dog'.
In Gothenburg there is an established and successful businessman by the name Sten A. Olsson. He has been involved in the company Sten A. Olsson Metal products since 1939. The company has developed rapidly following the huge demand for metal ore on the world market. Some years prior to this, Stena Metal Company became a direct deliverer to the Swedish steel production industry.
What few people know is that Sten A. Olsson also owns and operates seven small cargo ships. His corporation also boasts marine expertise even though Sten A. Olsson does not call himself a ship-owner. His main business is trade in metals. The head office is situated at Kaserntorget 6 in Gothenburg, whilst a large part of the production line remains in Gullbergs Vass.
Skagen – Gothenburg Line AS
The embryo to today's Stena Line is formed during the late summer and autumn of 1962 by a Danish businessman by the name Poul Ludvigsen. At this time he is based in Fredrikshavn at Jylland where he is studying the prospects of Sessan Line's traffic for Gothenburg. Ludvigsen is interested in Swedish housewives' shopping habits in Danish stores and has concluded that it would be just as lucrative to establish these shops on the car decks of a vehicle ferry. He can see large possible payoffs in the price differences between Sweden and Denmark and the generous import regulations of the time. His idea is to establish a few small shopping stands on the car deck of a ferry between Denmark and Sweden, with several Danish products being sold at a low price during the journey.
Ludvigsen sets up a small office at the Hotel Hoffman in Fredrikshavn, from where he seeks to attract capital investors for his project. Several persons of interest are approached and the director of the Winter Slopes, Ernst Nielsen, is hooked on the idea. Ludvigsen and Nielsen build an incorporated company. At
that time there are a number of ferries and passenger vessels anchored during the winter season and AS DS on Bornholm of 1866 (66-Company) in Rönne has an appropriate ship to rent out in the form of ØSTERSØEN, built in 1954.
On the 1st of August 1962 Ludvigsen and Nielsen hold a press conference and announce a new passenger line set to start on the 28th September under the firm name Skagen – Gothenburg Line AS. Skagen would be docked at Skagen in Denmark. Gothenburg in Sweden, with its large population, is its natural destination. The trip is estimated to take 3.5 hours. Departures from Gothenburg will take place morning and evening. As opposed to tax free items, fresh products will not be sold on board. Instead orders will be taken upon departure and delivery will be made on board the ship during the return journey. The evening trips promise entertainment by renowned artists and dancing in the restaurant, managed by the director Egon Pedersen, of Hoffman's Hotel in Fredrikshavn.
At the end of August it emerges that Egon Pedersen has pulled out as restaurateur and there are problems with the company as well as with the charter agreement of ØSTERSØEN. At the beginning of September Ernst Nielsen also pulls out due to 'time constraints'. However, Poul Ludvigsen does not give up. After several negotiations ØSTERSØEN arrives at the harbor in Skagen on Thursday the 27th September, where craftsmen and others may get on board. The foremost part of the car deck is to be transformed into a restaurant with a dance floor and an artists' stage whilst slot machines and roulettes are to be installed in the upper stern.
Rise and fall
On Friday the 28th September at 6 p.m. the first trip to Gothenburg takes place. A large dinner on board the ship is held for 70 specially invited guests. Ludvigsen gives a spirited speech about the Line and its future. He explains that he has secured a charter for the ship up to the 15th of April.
The festive mood quickly comes to an end. On Saturday ØSTERSØEN only manages to depart at 9.40 a.m., almost two hours late. The crossing takes four hours and in Skagen problems arise concerning forgotten food deliveries and unpaid harbour fees. Only after a delay of 3.5 hours can the ferry return. The evening trip is further delayed and irritated passengers arrive in Gothenburg at 5 a.m. on Sunday morning.
A few days later the crew on board threaten to strike until their outstanding salaries are paid up. It also emerges that the 66-company has not been paid its charter rent which according to the contract was to be paid weekly in advance. The morning trip is cancelled and when the 300 passengers demand a refund of their money they find that the cash register is empty.
On Tuesday afternoon, 2nd October a press conference is called on board the ØSTERSØEN at 3.30 p.m. An announcement is made stating that a planned reconstruction of the company has failed. The ferry leaves Gothenburg for Skagen at 4 p.m. It arrives around 8 p.m. After half an hour, five lawyers are allowed on board to assess which equipment and items are left that might belong to their bosses. Two days later ØSTERSØEN departs for Rönne. A long court case for Skagen – Gothenburg Line AS ensues in which everyone blames someone else for the problems. But Poul Ludvigsen is not discouraged. He intends to make a comeback.
Sten A. Olsson makes an entry on the scene
The idea of tax free sales on the ship to Denmark has been discussed at Stena AB. The extensive sales along the route between Sweden and Åland have been noted, amongst other things. Sten A. Olsson is aware of the enormous profit margins.
Through the freight agent Valdemar Christensen in Copenhagen, Poul Ludvigsen seeks to meet Sten A. Olsson with the hope that he will agree to invest capital in the reconstruction of the collapsed company. A meeting between Ludvigsen and Olsson takes place at the Brønnum Café by Kongen's New Market in Copenhagen. Ludvigsen talks extensively about his plans. Sten A. Olsson does not seem particularly interested during the meeting but instructs Valdemar Christensen to investigate some aspects of the business.
Sten A. Olsson thereafter decides pretty quickly to resuscitate the Line to Skagen. An agreement about a charter with ØSTERSØEN is made with 66-Company. When the negotiations are done, the press is informed about the new Stena-owned Skagen Line company with Sven Lindholm as director and Poul Ludvigsen as consultant, the latter being a short-lived assignment.
The Traffic is re-established
Around 8 a.m. on the morning of Thursday the 20th December ØSTERSØEN returns to Gothenburg and docks by the Stone pier's south side to be fitted with equipment. Behind the scenes, feverish activities are underway with advertisements and announcements to the press about the 'Christmas crossing'. Carpenters work intensively on ØSTERSØEN's car deck to build shopping stands and booths for custom controls. Apart from a small warehouse on the docks there are no premises available on land. Everything has to fit on board.
Friday the 21st December at 8.30 a.m. the first 'unofficial' trip to Skagen takes place. Skagen Line has started. After a two hour pause ØSTERSØEN sails back toward Gothenburg and anchors at the Stone pier at 6.45 p.m. The crossing is rough and chilly with 12 – 15 meters per second strong winds. Only a handful of passengers are on the trip compared to the 350 booked persons. The shipping company's representatives have to fasten a piano which has been rolling across the dining room. The southeasterly winds which are inappropriate for anchoring confirm that ØSTERSØEN is of maximum size for docking at the harbour.
On the weekend of the 22nd and 23rd December ØSTERSØEN makes one day- and evening trip daily. The catering on board is under the supervision of restaurant keeper Yngve Hansson, who also manages Gottskär Seabath and the restaurant Drufvan in Stockholm. The Danish crew however want to celebrate Christmas at home, so ØSTERSØEN sails to Skagen on Christmas Eve and returns to Gothenburg on Boxing Day.
Thereafter the trips start again. Already in mid-January, Skagen Line sends a press statement and announces that business has been so successful that two newly procured ships will be set in the same line of business. Additional lines would open in 1963.
The traffic continues to prosper until 10th February 1963, when the shipping company takes a break due
to ice on Kattegatt. ØSTERSØEN, which has managed to make 57 trips between Gothenburg and Skagen is to be returned to 66-Company at Bornholm on the 15th March.
Skagen Line's business idea is initially fairly simple. The company hires or owns the vessels with low, fixed costs. Preferably they sail fully booked with passengers who are encouraged to shop on board for as much money as possible. Apart from the traditional tax free items, groceries are also sold. Naturally passengers are also encouraged to eat and drink in the restaurants and bars. The business is built on the successful income generated on board. The actual ticket sales are insignificant.
These kinds of trips definitely fulfilled a need in Sweden at this time. Compared to neighbouring countries, the price-levels were high. Above all, the possibility to purchase cheap alcohol is a question of freedom in a country that has had individual buying quotas as recently as a decade earlier. Sten A. Olsson places his stakes right when he starts the Skagen Line in 1962. Who would have guessed that he had begun a business which by the name Stena Line would prove to become the world's largest ferry company? /Anders Bergenek and Rickard Sahlsten.
We hope that you find these inserts as exciting as we do. Please send us your questions should you wish to know anything else. The next historical insert touches on our first ferry ØSTERSØEN. /Ylva.
PS. Should you wish to read more about Monsieurs Bergenek and Sahlsten and our history, you can find their book, Stena Line – the History of a Shipping Company here. Furthermore Rickard is chairperson of Klubb Maritim Göteborg which manages our archive.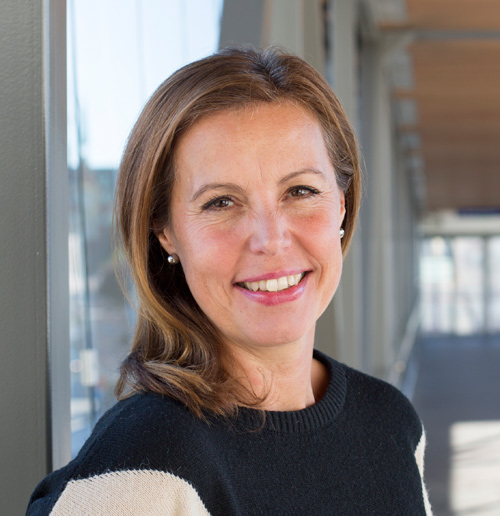 Ylva Vitorovic
Ylva is responsible for Stena Line's social channels. Here on A ferry nice blog, she writes about our history, our ferries, our people, etc. Don't hesitate to comment and ask questions.